Spoiler!
This page contains major plot spoilers related to the Fruits Basket manga, not yet revealed in the anime. Read at your own risk!
Hinata Sohma (草摩 ヒナタ, Sōma Hinata) is the younger sister of Hiro Sohma and the daughter of Satsuki Sohma.
She reappears in the sequel, Fruits Basket Another, now as an adult.
Appearance
As a baby, she has short hair, big, round eyes, and is only shown wearing baby clothes. She is also depicted in braided buns for hairstyle.
As an adult, she has darker-colored hair with nape-length hair and lower-chin-length bangs which mainly drapes over the right side of her face.
Personality
In Fruits Basket Another, she appears to be a kind and cheerful woman. She also seems to be responsible and dependable, as she was entrusted to take care of Shiki Sohma during their trip to the Sohma vacation house.
Story Overview
Fruits Basket
Second Year Arc
Hiro got a call from his mother Satsuki, informing him that she was pregnant with Hinata.[1]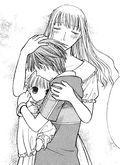 Hinata was born sometime after the Sohmas had their summer vacation. Hiro, unable to hug her like any other proud older brother, held Hinata's hands instead.[2][3]
Third Year Arc
When Hiro's curse broke, he was in the same room as Hinata, playing with her. Hiro immediately hugged her and indeed, he did not transform, meaning his curse did break. His mother comes in and gets moved and hugs Hiro and Hinata together, happy that Hiro is now able to hug anyone he wishes to.[4]
When Kisa's curse is broken, Hinata and Hiro watches at Kisa crying.[5]
Fruits Basket Another
She was mentioned by Mutsuki Sohma, as he heard from Hiro that Hinata is going to the Sohma Vacation House.[6]
Relationships
Hiro is Hinata's older brother. Hiro loves his sister deeply and dotes on her. The first thing he does when he realizes his curse is breaking is hugging his sister.
In Fruits Basket Another, Hinata mentions that Hiro is a very overprotective and doting older brother, and that she loves him as well.
Trivia
Since Hiro's name means "Light on the Path", she was named Hinata, which means "Towards the Sun" in Japanese. Their mother thought about it for a long time, because she wanted "sunny" names for both of her children.[2]
She is the only non-Zodiac sibling who knows about her brother's relation towards her.
She is the second of Sister Sohmas to appear in Fruits Basket Another, the first being Momo Sohma.
Apparently, she is a very bad driver.
References
Community content is available under
CC-BY-SA
unless otherwise noted.