I Hope It Snows Soon (降ればいいのに, Fureba ī no ni) is the third episode of the third season of the Fruits Basket 2019 Anime.
Summary
A shocking rumor spreads about Machi, so Yuki and Kakeru decide to check on her well-being. Love confessions are in the air, too: Kaibara High School's seniors are rushing to gain closure with their secret crushes before graduation.
Plot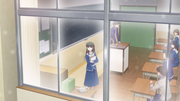 Machi stares out her homeroom window thinking that she doesn't want the snow to pile up. The idea of a perfect undisturbed field of snow distresses her so much that she knocks a box of chalk from the table, destroying it.
In the student council room, Naohito,Yuki, Kimi, and Kakeru discuss how the upcoming graduation is causing many seniors to confess their love before the graduate. Kimi thinks it's selfish since they have no chance of dating. Yuki says he hates to hurt their feelings, which Naohito thinks Yuki deserves. Kakeru asks if Naohito is jealous and Naohito begins yelling when Kakeru calls him short. Kimi says it's money, not appearance that makes a man attractive, which leads Naohito on another fit of yelling over not having what Yuki does. She deduces he must have a crush on someone that likes Yuki and his face turns red. To avoid Kimi and Kakeru's teasing, Naohito storms out of the room in search of Machi. Two of Machi's annoyed classmates walk in, telling them she is still cleaning up chalk. When they see Yuki, they excitedly explain what she did and relay the rumor that Machi was kicked out of her house for trying to kill her brother. Kimi and Kakeru agree it's a lie just as Machi walks into the room. Machi runs away, which the girls, including Kimi, consider confirmation the rumor is true.
As Machi runs down the hall, she recalls her mother berating her for being jealous of her little brother and her father suggesting she live apart from them. Both parents claim it's for her benefit. Kakeru confides in Yuki that the rumor is close to the truth. Yuki says it's still hard to believe, and Kakeru agrees since he heard it from her parents. He asks if Yuki wants to go to Machi's house and ask about it. He recalls a time when it snowed and he saw her walking around silently but intently leaving footprints in the snow. Kakeru and Yuki arrive at Machi's door. Upon seeing Yuki, she quickly tries to shut them out, but Kakeru pushes their way in. Yuki is cheerfully reminded of his own "Sea of Decay", to Machi's embarrassment. Kakeru takes the trash out, leaving the two of them alone. Machi asks if they came to clean or to ask about the rumor and tells Yuki she doesn't care if he believes them, since her own parents didn't believe her. Yuki asks if perfection bothers her and she says it scares her.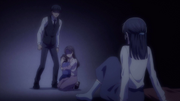 Machi remembers her mother demanding nothing but perfection from her in order to beat Kakeru and berating her if she did not achieve it. She did her best, but once her brother was born, her mother was relieved Machi was no longer the heir and called Machi boring. Machi asks why she would say that after doing everything her mother wanted and while her mother berates her for making it sound like her fault, she admits she may have raised Machi wrong. Distressed, Machi wonders what she's supposed to do if she's a mistake and shatters a vase of flowers.
In the present, Yuki tells her she's worked hard to become the person she is now and he is glad and proud of her. She is surprised by the compliment, believing herself to be worthless and starts to cry. She tells Yuki she was worried about her brother being cold and put a blanket on him, but her parents assumed she was trying to kill him and refused to believe her. Just outside, Kakeru listens to Machi's story. Yuki promises Machi that if the snow piles up, they will make footprints in it together. Kakeru's phone goes off, interrupting them, much to everyone's dismay.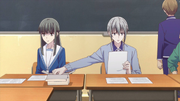 The snow melts by the next morning when the student council is having their meeting. A member brings Kimi a new box of chalk, but Kimi pushes it away toward Machi since she isn't on chalk duty. As Machi is about to panic, Yuki nonchalantly reaches over and snaps a single piece without even pausing or looking up. Machi wonders if he will remember his promise and for the first time, wishes for snow.
Kyo is flustered by Tohru handing him a paper flower as they decorate for the graduation ceremony. Arisa reflects that they only have a year left of high school and Saki agrees time flies. Kyo get angry at them for not helping and falls off the ladder. Yuki walks in and stops the ladder from hitting Tohru but lets Kyo hit the ground. Arisa and Saki are furious with Kyo for almost hurting Tohru and the three of them argue. Yuki tells Tohru he must leave for an appointment.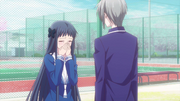 Outside the school, Motoko thinks about graduating as she waits for Yuki. Once he arrives, she becomes flustered and stumbles to confess but says she's glad to have met him and loved him. Motoko wishes for Yuki to find the type of happiness he gave her, even though she can't give it to him. She begins to cry as she thanks him and hopes he understands that she isn't trying to get him to return her feelings. He tells her that he doesn't deserve it, but thanks her. She stops him from apologizing because it would ruin the moment and says it might be fair since someone could have been pining over her.
The seniors graduate and Motoko returns to her old classroom for a final farewell. Naohito finds her and starts to confess his feelings, but wishes her happiness after graduation. She returns the well wishes and the two say a final goodbye.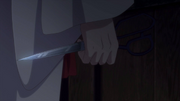 In the hospital, Hiro meets his newborn sister, Hinata. His mother tells Hiro since she named him "a light in the path", she named his sister "Sunshine" and that now is his chance to hug her. Hiro says he can't because Hinata is a girl and he will transform, but his mother says it's okay because she will hug them both together.
At the Sohma estate, Kagura tells Shigure and Hatori that Isuzu ended up graduating in the hospital and asks if Isuzu is really there. Hatori says that's what he's told, but Kagura replies that no one seems to know where and she can't get ahold of Isuzu. Shigure says her mom probably told her not to investigate and Kagura agrees, but worries she won't come back. Meanwhile, Akito leaves the Cat's Room holding a pair of scissors as a few strands of long black hair fall behind her.
Characters
Trivia
The episode title is taken from one of Machi Kuragi's lines.
Anime and Manga Differences
The dialogue from the student during Machi's opening narration was added for the anime.
The dialogue with Yuki and the student council members while seeing it snow and preparing a heater actually comes from Chapter 103. In the manga, their conversation originally involved discussing what to do in the snow and Kakeru teasing about wanting to take a nap.
The anime removed a line from Kakeru telling the two girls to leave the student council room because of interrupting him.
There's a slight change in the scene where Yuki Sohma and Kakeru Manabe discuss how Machi was kicked out of the Kuragi family home. Kakeru seems slightly more willing to believe the Kuragis' words about Machi than in the manga, and only admits that he doesn't truly believe it either when Yuki points out how unbelievable the situation is.
The flashbacks about Machi, her little half-brother and their parents add a scene where Machi's mother urges her to be perfect in everything, so she will "defeat that woman's son" alias Kakeru. It also has an additional sequence where she pushes Machi away from her sleeping little brother and on the floor, before accusing her of trying to kill the boy.
The anime added the scene of Kyo, Tohru, Arisa, Saki and other students working on getting the school's gym ready for the seniors' high school graduation.
The anime removed a decent part of Chapter 103's content up to the scene where Yuki talks with Motoko. Scenes that were removed include:

Motoko asking Yuki to meet with her later outside the school, and Yuki admitting to Kakeru he's slow at picking up on such things.
A scene in the student council classroom where Yuki and the other members are discussing and teasing one another about who they love. A decent amount of the dialogue was used for the anime with the earlier council scene from Chapter 102.

Some of Motoko's inner thoughts on trying to confess to Yuki got removed from the anime. In addition, the anime added in additional flashbacks of Motoko observing Yuki while part of the Yuki Fan Club.
The graduation ceremony was extended for the anime. The song sang for the ceremony accompanying school setting shots was added for the anime.
A small scene was removed following Nao's meeting with Motoko. Here, he meets up with Yuki and Kakeru, with the latter teasing him to see if his head's cooled down.
In the manga, Hatori had a cigarette on hand in his scene with Kagura and Shigure.
The anime removes a small scene where Kunimitsu Tomoda is shocked over seeing Kazuma Sohma up extremely early.
Community content is available under
CC-BY-SA
unless otherwise noted.