Jurassic World: Dominion Dominates Fandom Wikis - The Loop
Play Sound
He is the estranged father of Isuzu Sohma.
Appearance
He is a middle-aged man with dark brown hair which reaches down to his nape, along with bangs neatly parted to the right side. His eyes are always seen being obscured by a shadow. During his appearances, he is seen to dress rather professionally; such as simple suits and ties.
Personality
He was initially seen to be a kind and loving father, always seen with a smile on his face, who loved his daughter deeply. However, when Isuzu questioned her parent's love, his loving personality is revealed to have been an act, as he turned into an incredibly angry, selfish, and physically, verbally, and emotionally abused his daughter. In comparison to his wife, he is much quieter and leaves the talking to her, but is very cruel towards Isuzu and is not afraid to rub his hatred of her in her face. He also abandoned Isuzu without a second thought without thinking about the trauma he and his wife had inflicted on her.[1]
History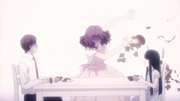 At an unknown point, he married his wife who gave birth to Isuzu. Their daughter was born cursed by the spirit of the Horse. Despite being cursed, Isuzu's parents would constantly assure her that they had a happy home and that they loved her very much, never arguing or getting mad at one another. Isuzu, who although loved her parents deeply, thought their behavior was similar to being in a play, and such, she innocently questioned if they really were happy and if there wasn't anything that made them sad. This made her father's smile turn into a frown, and he witnessed when his wife began screaming at Isuzu and threw and broke things all over the place, questioning her for whose sake they had been pretending for.[1]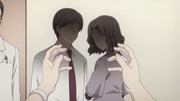 Following this, it is revealed that both his wife and he hated Isuzu; she was a burden to them, but they tried to cover it up and repressed these feelings for years before they broke. It is implied that they constantly had mood swings and regularly abused Isuzu as well; her father was once seen violently dragging her by the hair when she was still a child, and they always told her they didn't want her. Despite this, Isuzu always held on to the hope that they would be able to go back to the "loving" family they once were. One day, a middle-schooler Isuzu, who had grown so weak from her trauma and her parent's abuse, downright collapsed in the streets, where she was later brought to the hospital. There, it is revealed that her parents had abused her in many, but unnoticeable, places. Then, her parents suddenly appeared and told her that it would be better if they never saw her again, since they didn't know how to love her anymore. When Isuzu attempted to go back to them, her father cruelly reaffirmed that they didn't want her. As the doctor escorted them out, Hatsuharu Sohma delivered a tongue-lashing about their selfish actions, though they seemed to quite unbothered by it.[2][3]
From there, he has lived separate from his daughter and has no contact with her. Despite this, Isuzu was deeply wounded and traumatized by her parent's abuse, as she sometimes has mental breakdowns while being reminded by their abuse.[1]
Relationships
He initially seemed to love Isuzu dearly; he played with her, took care of her gently, and always assured that she was loved. However, it was later revealed that he had only been pretending to love her to uphold their image as a "happy family". After Isuzu posed the innocent questions that changed the family's dynamic, he became an incredibly violent and cruel father who was actually revealed to hate Isuzu and physically abused her for years, starting from when she was child.[1] At last, he and his wife couldn't bear the mere thought of Isuzu's existence, so they visited her in the hospital and told her that it would be fine if she went somewhere she never had to see her again, since they did not and could never love her anymore. He also had no problem to cruelly confirm that they did not want her.[3][2] His actions caused great grief and trauma for Isuzu, and suffers from the after-effects even after many years.
Trivia
His name is never mentioned.
References