Mai Gotou
Description
Gender
Female
Hair Color
Black (2019 Anime)
Black-Purplish (2001 Anime)
Eye Color
Grey (2019 Anime)
Green (2001 Anime)
Professional Status
Occupation
Student
Affiliation
Kaibara Municipal High School
Relatives
Parents
Unnamed Parents
Debut
Anime
Episode 1 (2001)
Episode 6 (2019)
Voice Actors
Japanese
Kaoru Suzuki (2001)
English
Meredith McCoy (2001)
Kristen McGuire (2019)
Mai Gotou is a minor character of the Fruits Basket series. She is the second member of the Prince Yuki Fan Club. She is normally called "Number 2" by the other members.
Appearance
She has black hair with a bob haircut.
Personality
Story Overview
First Year Arc
Second Year Arc
Differences from the source material
  This section contains the overall plot differences between the original manga and the 2001 and 2019 anime of Mai Gotou. As so, all information may not constitute canon material. Click on "Expand" to read.
She is only seen in three episodes of the 2001 anime, only one of which she is featured in entirely.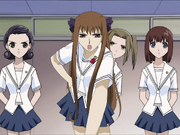 Mai is one of the girls who are curious to know if there will be any females that will be appointed to the student council, since Yuki will be the student council president the following year. However,
Makoto Takei
denies them access to this information. They later pass by and catch a glimpse at Tohru conversing with Yuki, which, in turn, infuriates them. Motoko must think about graduation from high school as well as her resignation from the fan club. Motoko enlists the assistance of Rika Aida in order to infiltrate the student council office. Once there, they run into Yuki. They end up talking about leeks because Mokoto gets very anxious when talking to Yuki. After she runs away toward the school grounds, Yuki finds her and apologizes for what he did or said that could have hurt her feelings. Mokoto now understands how connected Tohru and Yuki are together.
[1]
References
Community content is available under
CC-BY-SA
unless otherwise noted.