He is the father of Momiji and Momo Sohma. He is stated to be one of the wealthiest people in the Sohma Family, as he is a businessman who owns a big company.
Appearance
The details of his appearance are scarce, but he is seen having short, slightly spiked dark brown hair. During his appearances, he is seen wearing formal black business suits.
Personality
Momiji describes him as a man who is scared to lose the happiness he has rebuilt, and takes desperate measures in preventing this, including isolating his son from the rest of his family. Although he promised Momiji that he would love him twice as much to make up for his mother rejecting him, all he does is preventing Momiji meeting his mother and sister out of fear that Momiji getting too close to them will trigger his wife's memories.[1] Momiji is even expected to apologize if he runs into them accidentally.[2]
History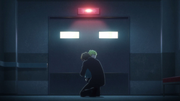 He met his German wife in college and their whole relationship went well until Momiji was born. Since he transformed into a rabbit upon hugging him, it traumatized Momiji's mother, which led her to become depressed and suicidal. Ultimately, Momiji's father took the decision, with Momiji's "consent", to erase him for his mother's memories. He wanted to save his wife, but he also promised Momiji to love him so much and make up for the lack of motherly love.[2]
Mr. Sohma began a new life with his wife and daughter Momo, though Momiji was excluded and forced to live within the Sohma Estate with other people. Momiji mentions how his father doesn't want him to interact with his biological family since he is scared to have both of his worlds shattered. However, he still does love Momiji and wants him to follow in his footsteps.[1]
Story Overview
First Year Arc
Mr. Sohma is seen walking hand-in-hand with his daughter and wife on their way home, all while Momiji wistfully watches them from afar.[3]
Second Year Arc
He reveals to Momiji how Momo has been wanting to play the violin like him and has grown increasingly curious about him. He doesn't outright force his son to quit, but tells him that their teachers would the same and that it would cause problems. He apologizes to Momiji over and over, and Momiji has no other choice than accept this.[1]
Relationships
Mr. Sohma seems to be in a happy marriage with his wife. They met in college and their whole relationship went well until Momiji's birth. In the end, he asked Hatori to wipe his wife's memory of Momiji to prevent her from confronting the fact that he is possessed by the Zodiac and keep her from attempting to kill herself again. Once they erased Momiji from her memories, they could go back to the loving couple they were.[2]
He accepts Momiji despite his curse and cares for him, as he promised him that he would love him twice as much to make up for his mother forgetting him and is seen holding him close more than once. Despite this, he isolates Momiji from the rest of the family and lets him live alone without any adult supervision (though he does provide more than adequately for him), and prioritizes his wife and daughter over him. Still, he is never malicious and constantly apologizes to his son; Momiji even notes that he is suffering from wanting to keep the happiness he has rebuilt over the years.[2][1]
In Fruits Basket Another, Momiji has taken over his father's business, so it is implied that father and son have become closer throughout the years.
Trivia
He shares his 2001 English voice actor with Kyo's Father.
His name is never mentioned.
He is also one of the few Sohma parents who wholly accept their "cursed" child.
References