We're Getting Mutants in the MCU - The Loop
Play Sound
She is the paternal grandmother of Saki and Megumi Hanajima.
Appearance
She is a middle-aged woman with noticeable age marks around her eyes and mouth. She has nape-length, straight, grey hair with rather short bangs. She has a pair of light purple eyes, similar to Saki. She usually dresses in darker colors such as purple and brown, and wears a necklace.
Personality
She is a very calm and level-headed woman who is emotionally intuitive but loving of Saki in the same way as the latter's parents. Although she is supportive of Saki and her "powers", she was worried about Saki's future due to her abilities, so she is always trying to empathize with Saki's situation and help her with her struggles. When Saki began wearing all black, a way of "signaling her guilt", her grandmother suggested her to wear black nail polish as well, since she knew that Saki felt comfortable dressing in black.
Story Overview
History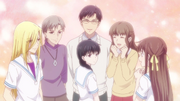 Throughout Saki's elementary- and middle school years when she was getting bullied, her grandmother supported her in the best way she could and look for a way to make Saki's life easier. Although it was prohibited by the school, Saki's grandmother was the one who suggested for Saki to paint her nails black, since she knew it would make Saki feel more comfortable. When Saki eventually met her best friends Tohru Honda and Arisa Uotani who accepted her, she learned to control her powers, which her grandmother was very happy to see.[2]
Plot
Her first and only appearance is where she is seen with her family on New Year's Eve, all watching TV.[3]
Trivia
Her name is never mentioned.
References