The Sohma Curse (第二話, Dai Ni Wa) is the second episode of Fruits Basket 2001 Anime.
Summary
Now that Tohru has discovered the Sohma secret, she may not be able to move in after all. Worse, the head of the Sohma family may decide to erase her memory!
Plot
---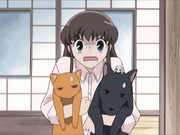 The episodes starts off with Tohru running to a postman with the animal forms of Shigure, Yuki and Kyo whom she has accidentally touched when a wooden plank hits her head.
Tohru exclaims at the postman to do something but the postman thinks Tohru's being crazy and passes her the mail. The dog (Shigure) seems to be clever enough to help out his 'owner' to get the mail.
After the postman left, Shigure explains the curse. Shigure states that the Sohma family has this curse for generations. Whenever they are hugged by the opposite sex, they would transform. He casually tells Tohru that Yuki is the rat, he is the dog and Kyo is the cat. Shigure then warned Tohru that when they changed (halfway they changed back), they are naked. A shocked Tohru runs into the wall.
The next day, she has her school uniform washed after a dirty night.
Characters
Trivia
Community content is available under
CC-BY-SA
unless otherwise noted.